11th Annual Glenwood - AVCC - Holiday Food Drive
Posted by Patrick Schwier on Thursday, December 1, 2022 at 5:45 PM
By Patrick Schwier / December 1, 2022
Comment
HAPPY HOLIDAYS EVERYONE!

The 11th Annual Glenwood & Aliso Viejo Country Club
Holdiay Food Drive - Sunday, December18th 2022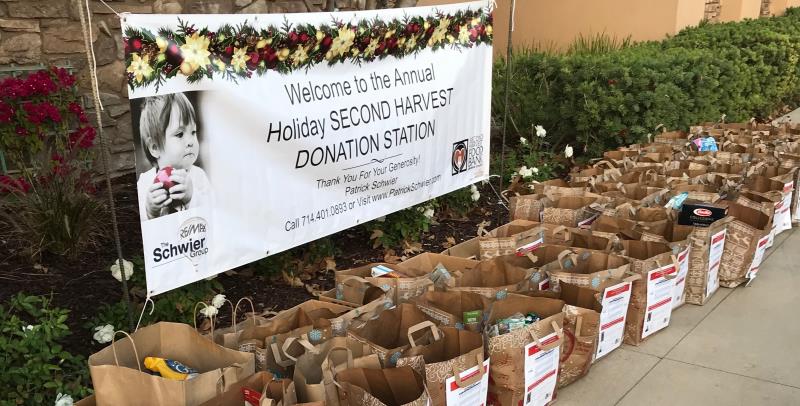 | | |
| --- | --- |
| What: | 11th Annual Glenwood / AVCC Holiday Food Drive |
| When: | Sunday, December 18th - Noon to 4 PM |
| Where: | Glenwood Community & Aliso Viejo Country Club |
| Time: | Noon - 4 PM |
Where & How to Donate Options:
1. (Glenwood Residents) In the Glenwood Community we will will drop off Donation Bags on Friday, December 16th and pick them up from your doorsteps on Sunday, December 18th starting at noon to 4 PM.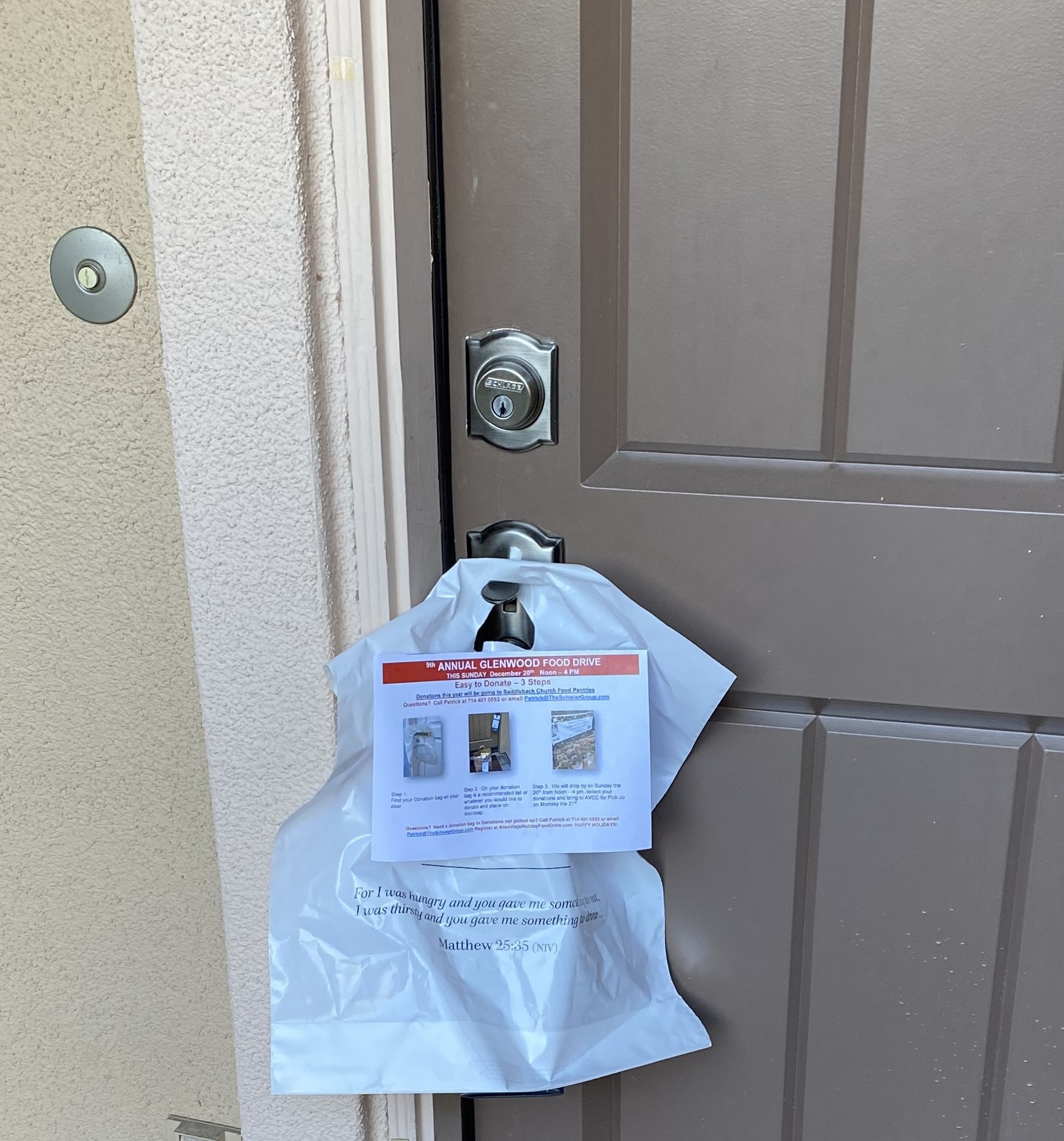 2. (All Residents of Aliso Viejo or surrounding communities)
WE WILL DROP OFF DONATION BAGS directly to your home on Friday the 16th. The Food Drive pick up will begin on Sunday, December 18th between noon and 8 pm.

3. Drop Off at Aliso Viejo Country Club: You can personally deliver any food donations directly at the Aliso Viejo Country Club at 33 Santa Barabra Drive in Aliso Viejo. Go through the main doors and you will find Donation Boxes, they will be placed by Monday, Sunday - December 4th.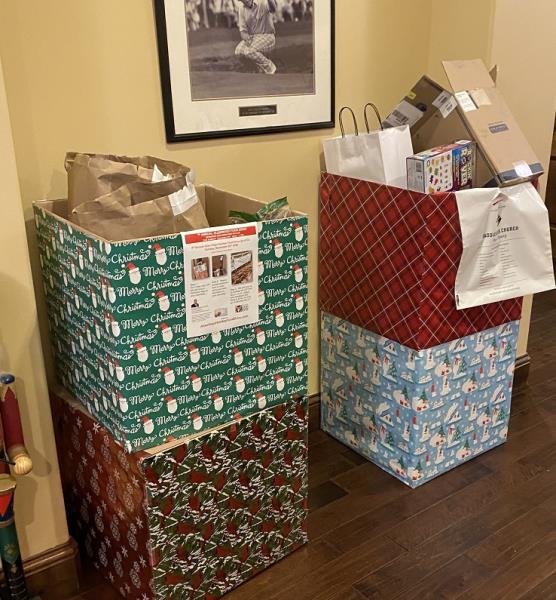 Recommended Items for Donation
Peanut or other nut butters
Canned vegetables
Rice (brown preferred)
Canned fruit (packed in water or juice)
Dried or canned beans (low sodium)
Whole grain cereal (low sugar)
Canned or boxed soup (low sodium)
Whole grain pasta
Canned meat or fish (in water)
Healthy snacks like low sugar granola bars, raw nuts or dried fruit
Other items for collection:
Diapers
Toothbrushes and toothpaste
Toilet paper
Shampoo and conditioner
Soap
Feminine hygiene products
Other questions you have for food collection? Check out:
https://www.yourfooddrive.org/faq.php
If you experience any Technical difficulties while registering please email: [email protected] or Text Patrick directly at 71 401 0893

Happy Holidays Everyone!
---
PREVIOUS FOOD DRIVES
---
2022 Food Drive Updates
12/16/22 - 5:20 PM - Food Donation bags have been placed on all of the Glenwood Door steps. We will be driving by on Golf Carts on Sunday the 18th from noon - 4 pm tomorrow. Thanks again everyone for your Holiday Spirit and donating for those who could use a bit of help this holiday season!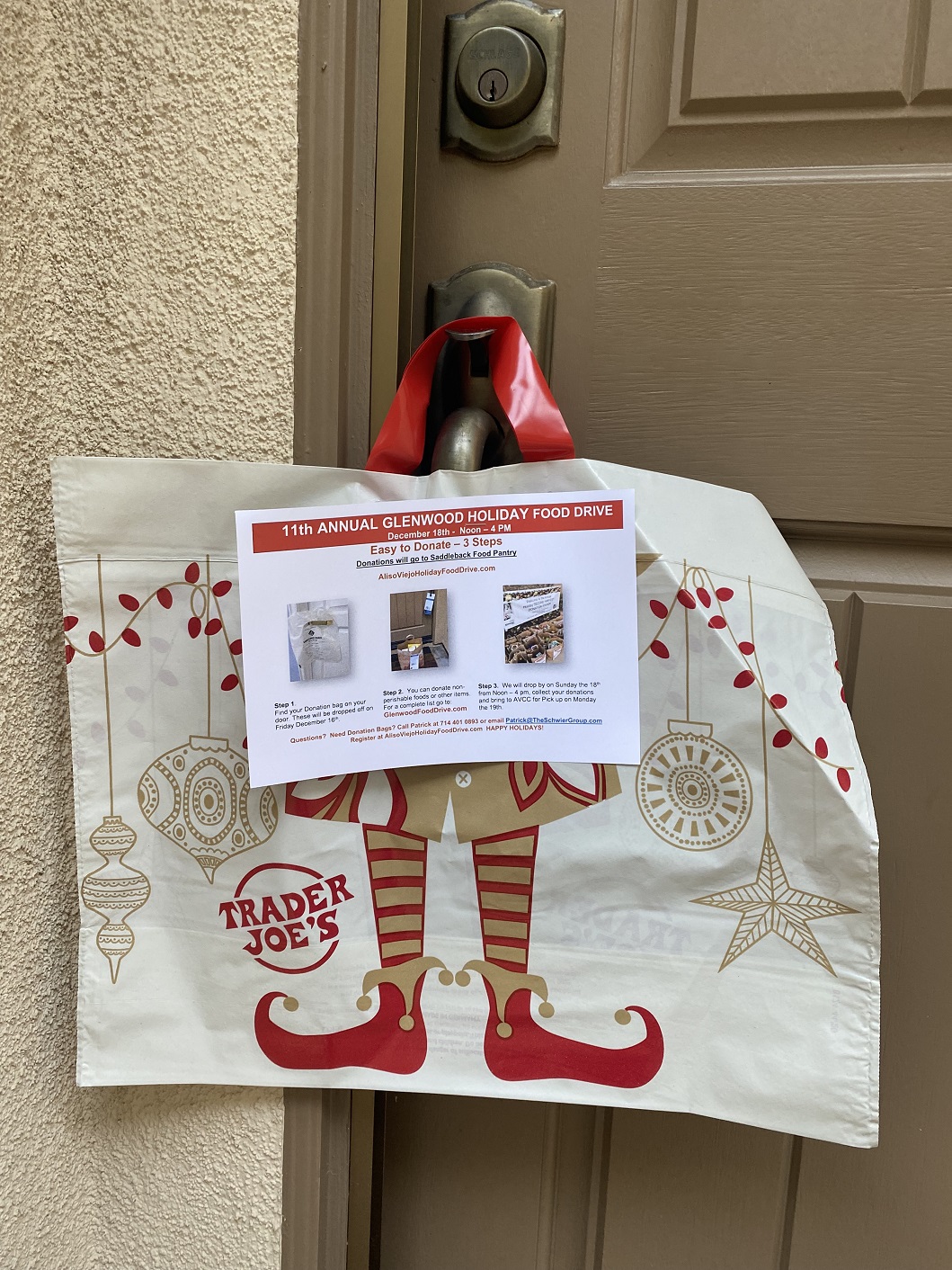 Trader Joes Holiday Collection Bags from the Aliso Creek Store

12/16/22 - 9:00 AM - Donation bags below have been created and will be dropped off today.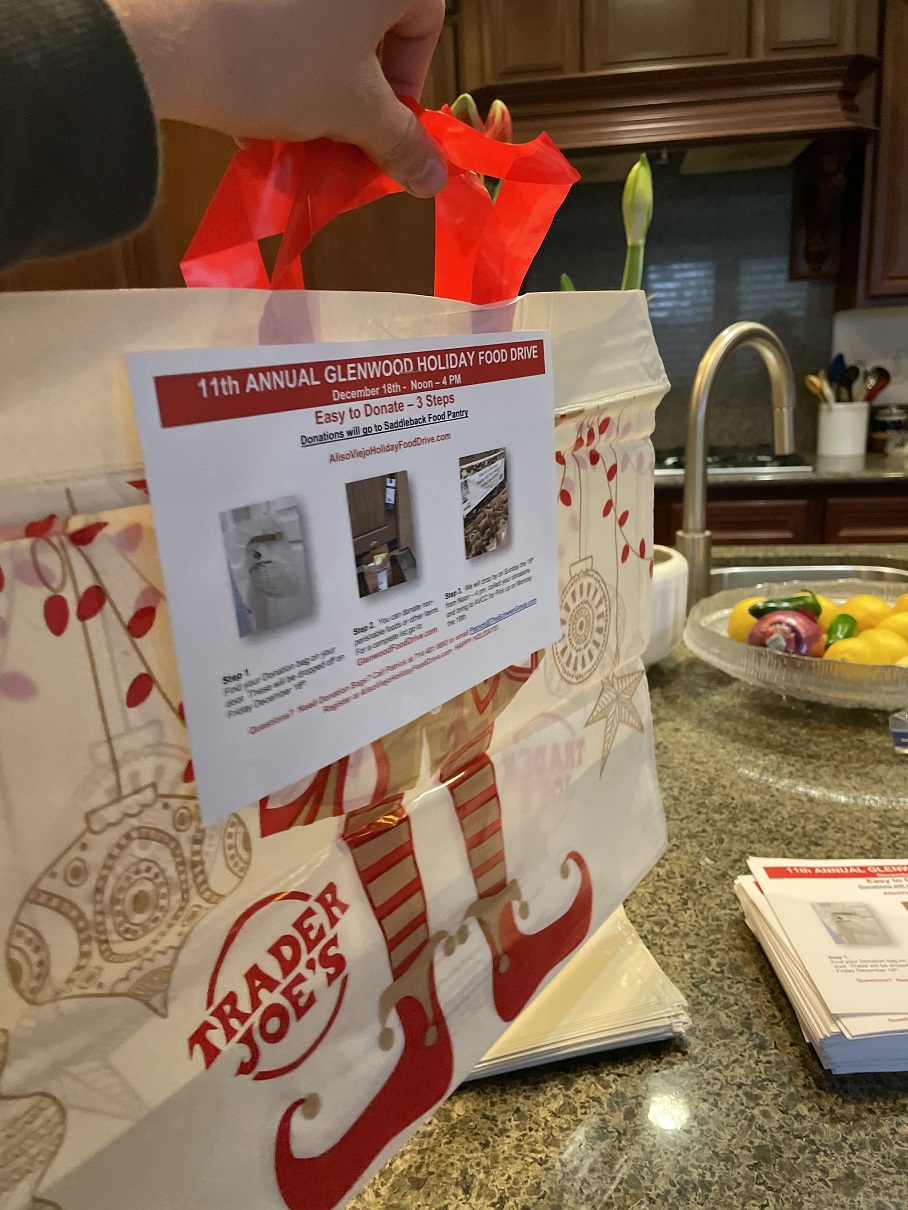 Donation Helper putting together the Holiday Collection Bags!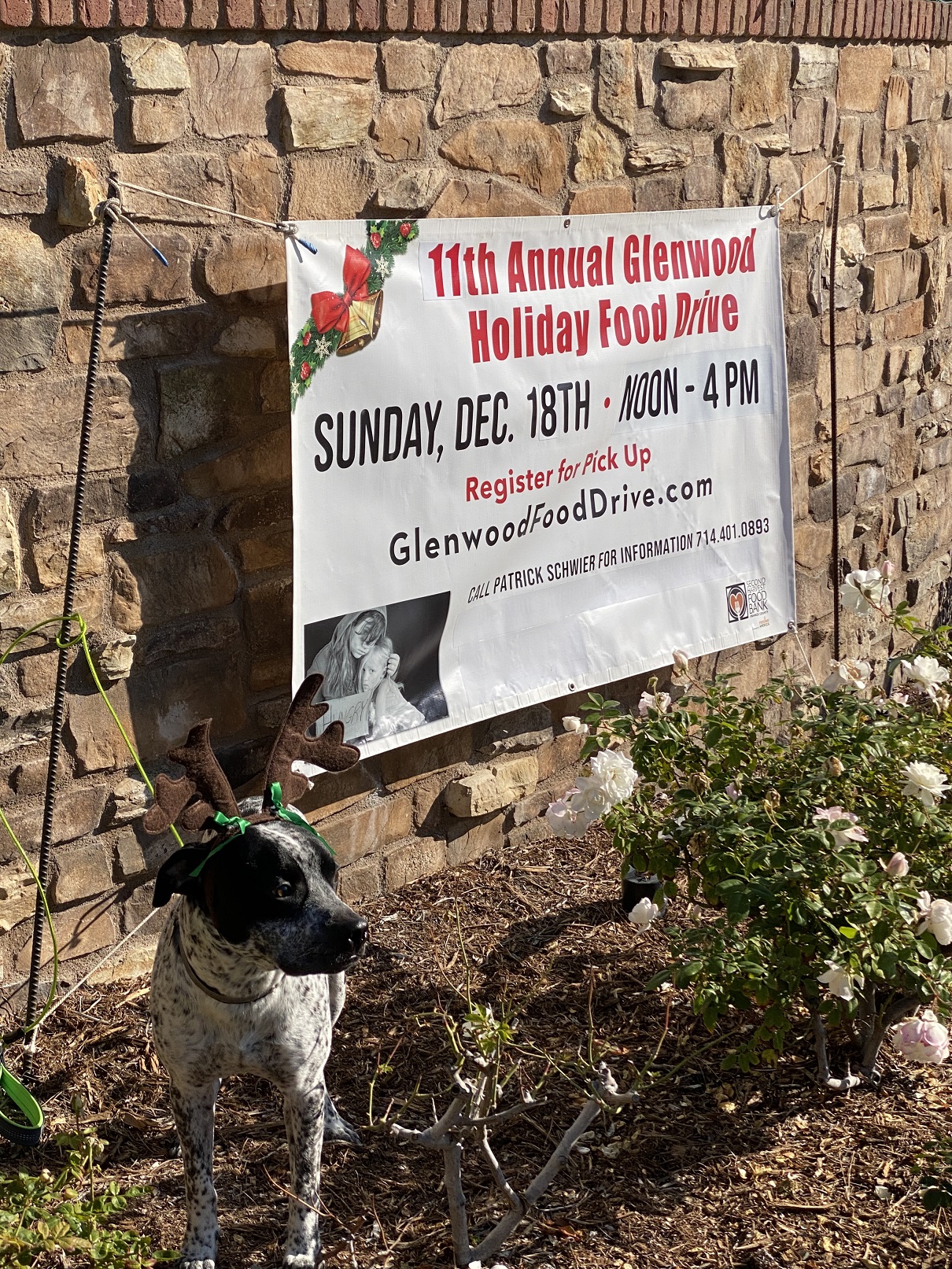 Eddie Van Howlin - Reindeer Style
12/11/22 - 10:00 AM - Our candy cane Holiday Food Drive Reminders were dropped off at all of the Glenwood homes today. The Holiday Food Drive will be next Sunday - December 18th from Noon - 4:00 PM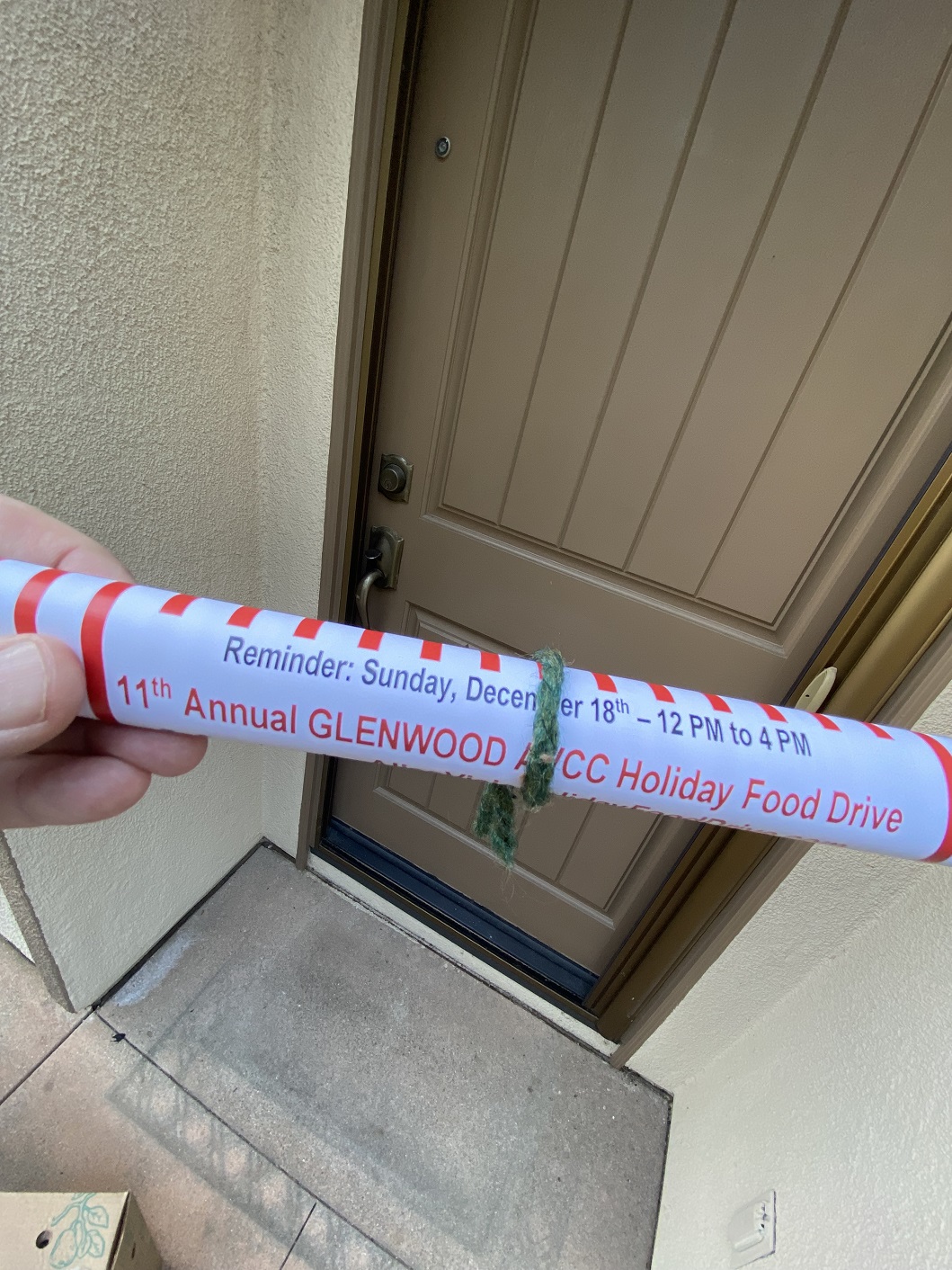 Candy can flyer reminders handed out 12/11/22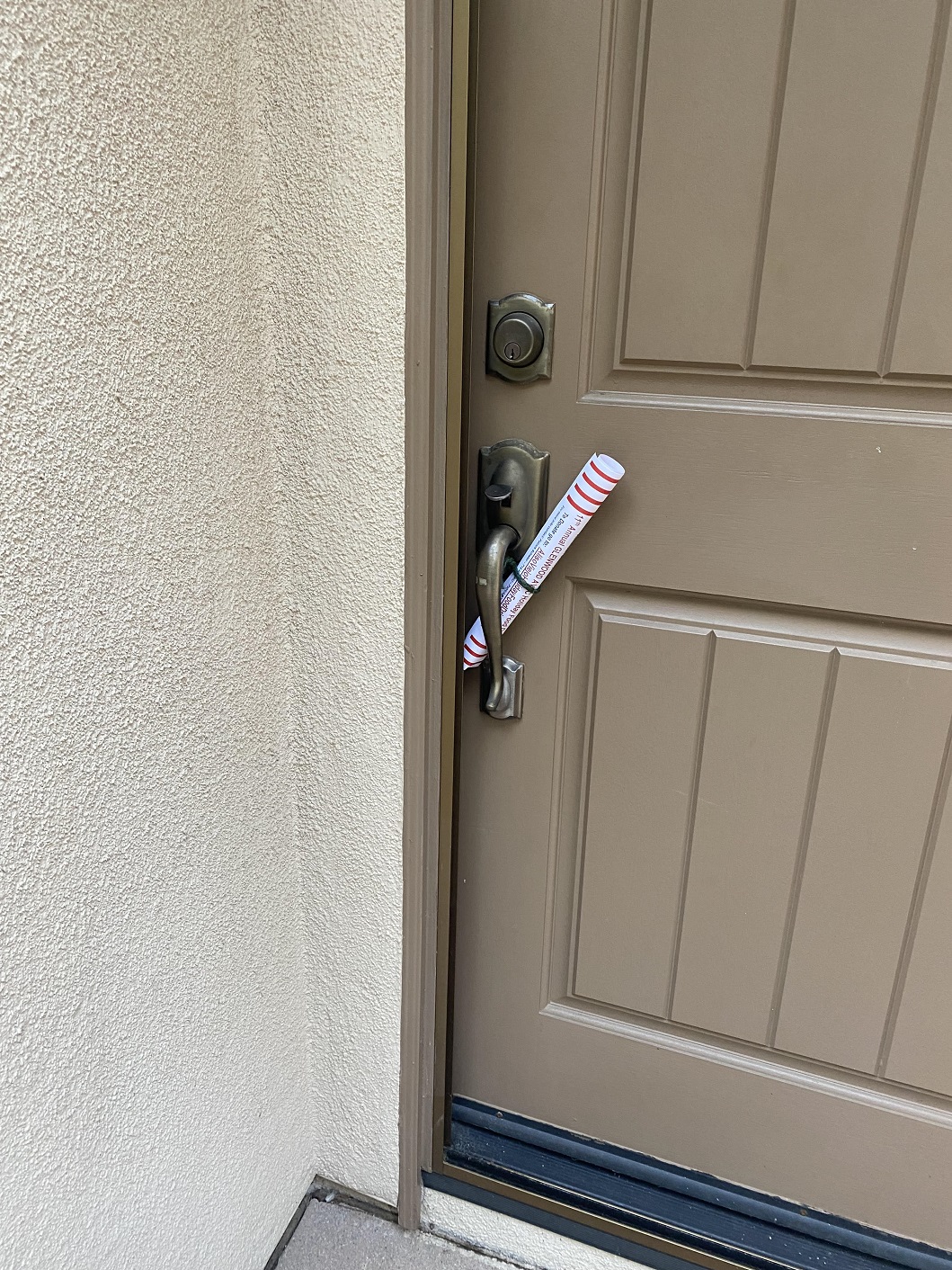 Candy Cane Flyer delivered above and below the candy cane flyer message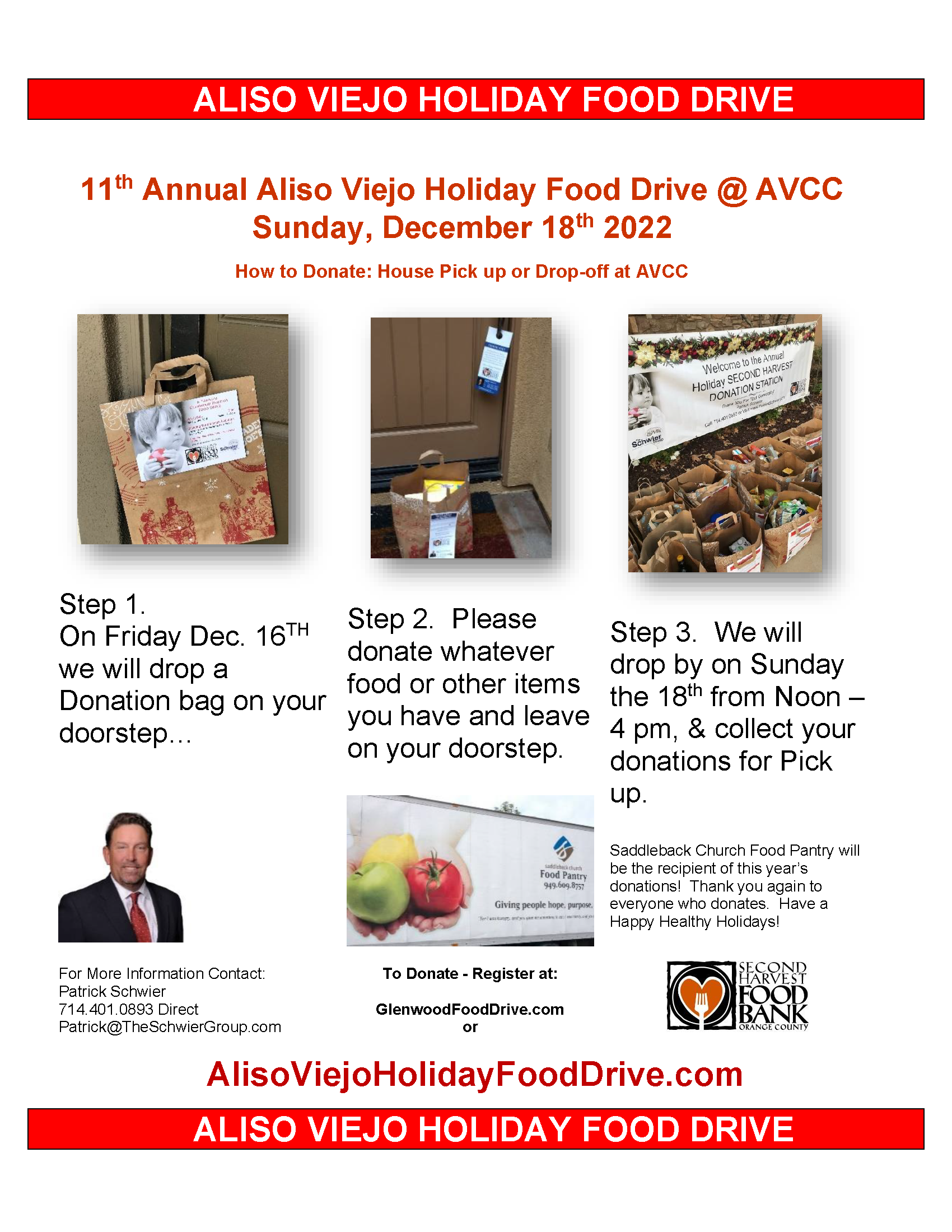 Text or call Patrick with questions at 714 401 0893! Thank you everyone!
Happy Holidays!!
---
2021 Holiday Food Drive Updates & Results
12/20/21 (1 day after the food collection)

Thank you again for all of your donations! As usual your generosity is amazing! We collected over 1200 lbs of food for donation! Check out some pictures below of the event! from Patrick Schwier as well as The Shaughnessey's & The Franklin's, Paulina James & The Aliso Viejo Country Club & a Big Thank you to the Glenwood Community! Check out some pictures below!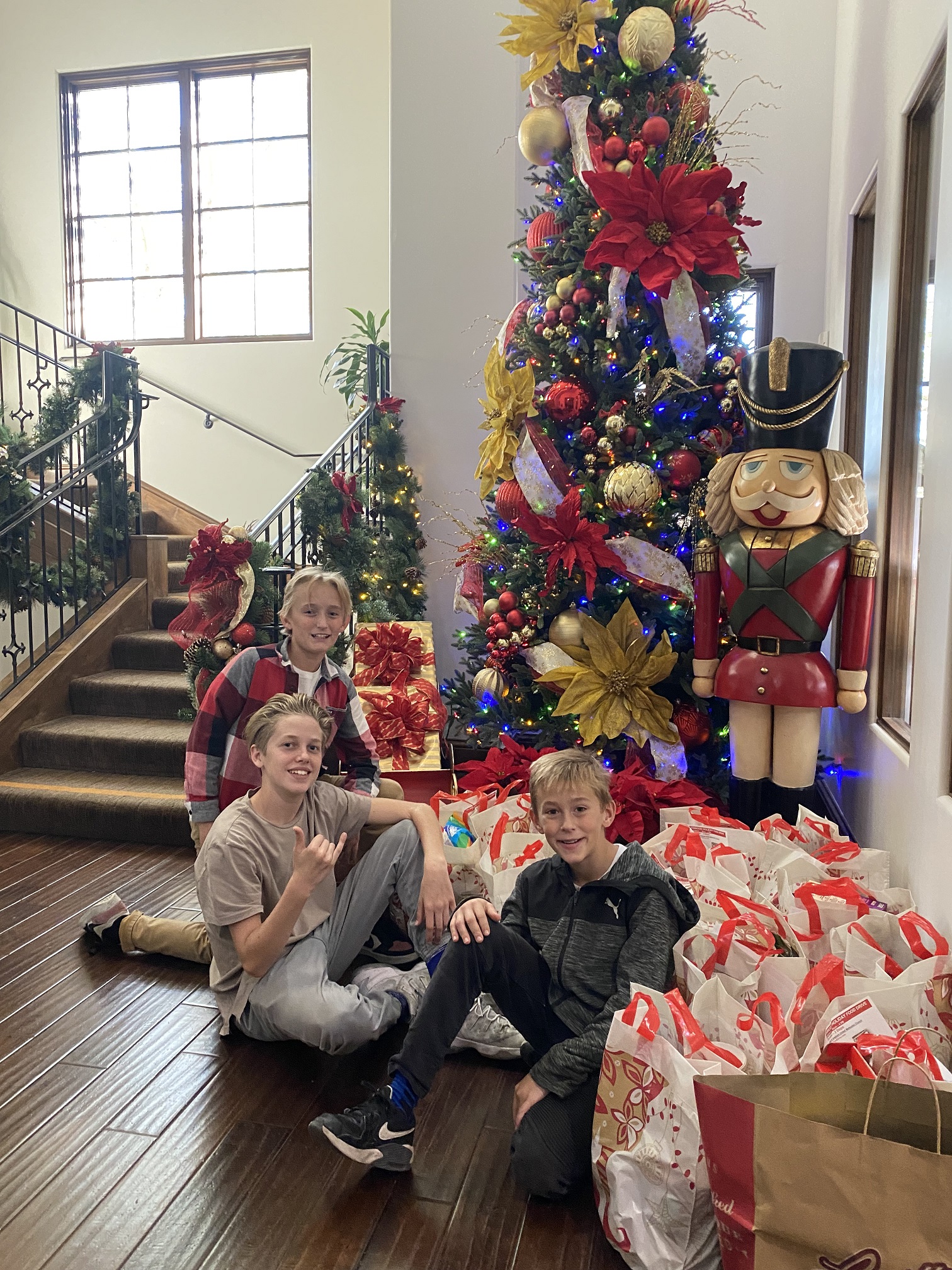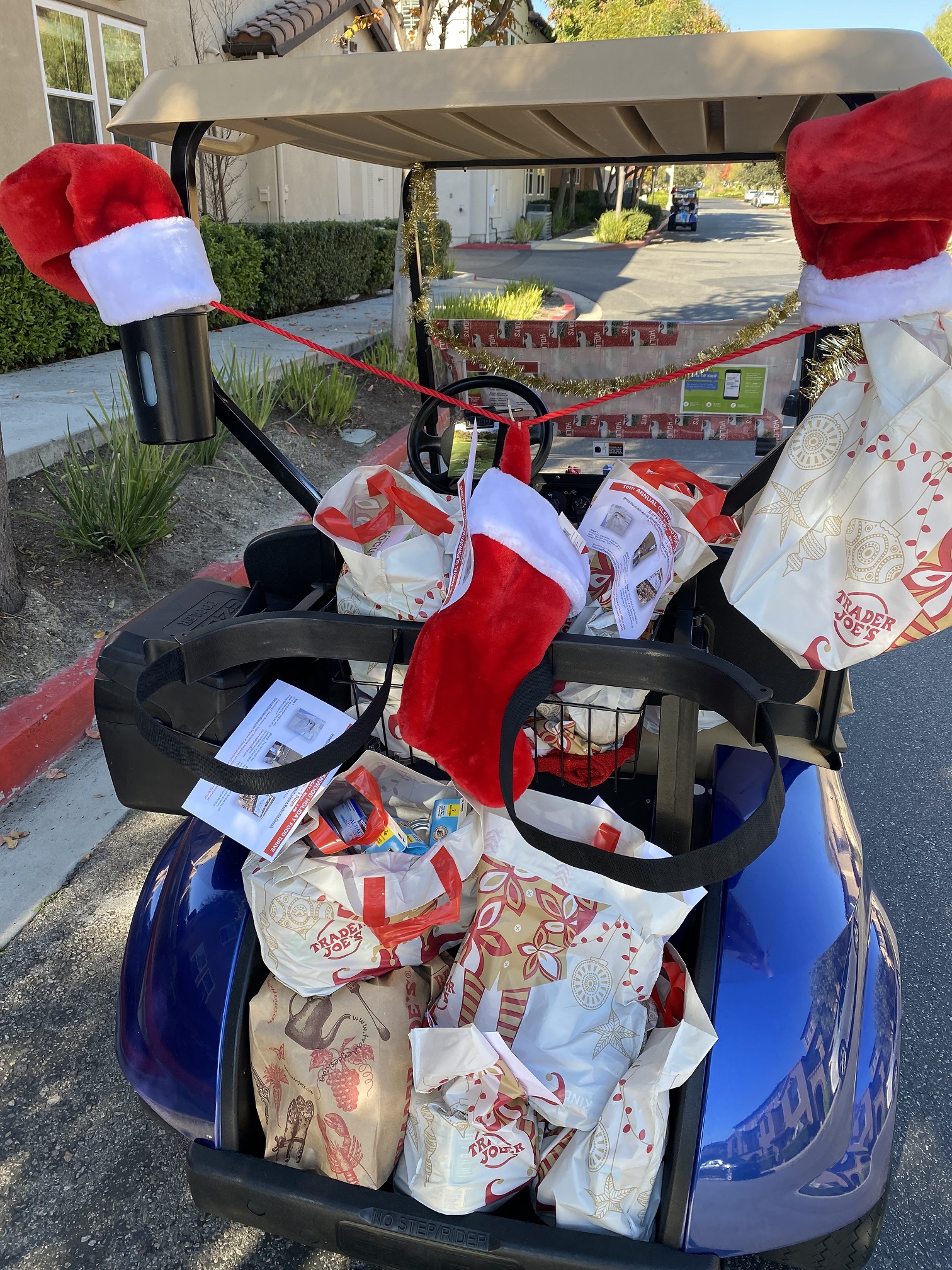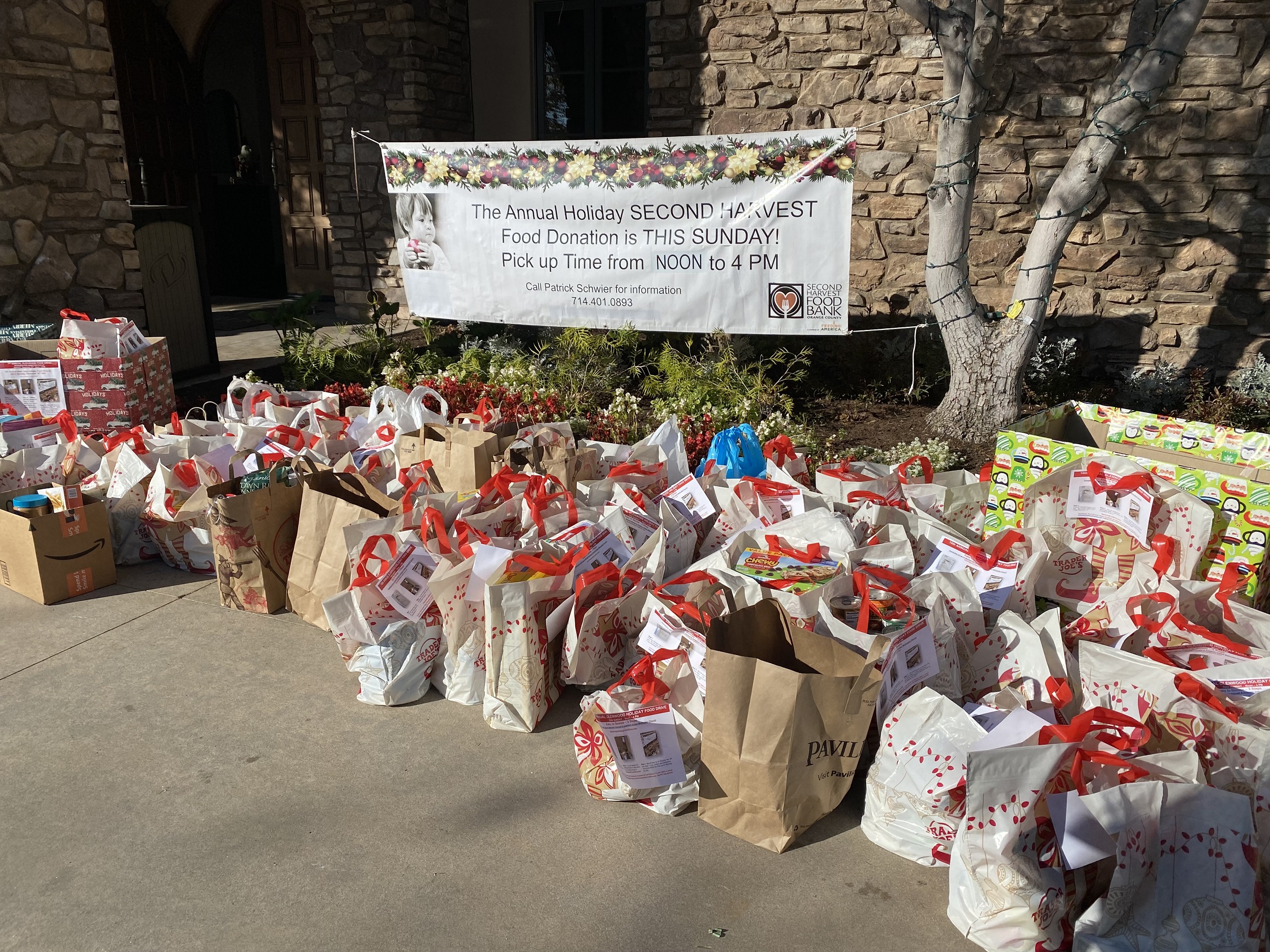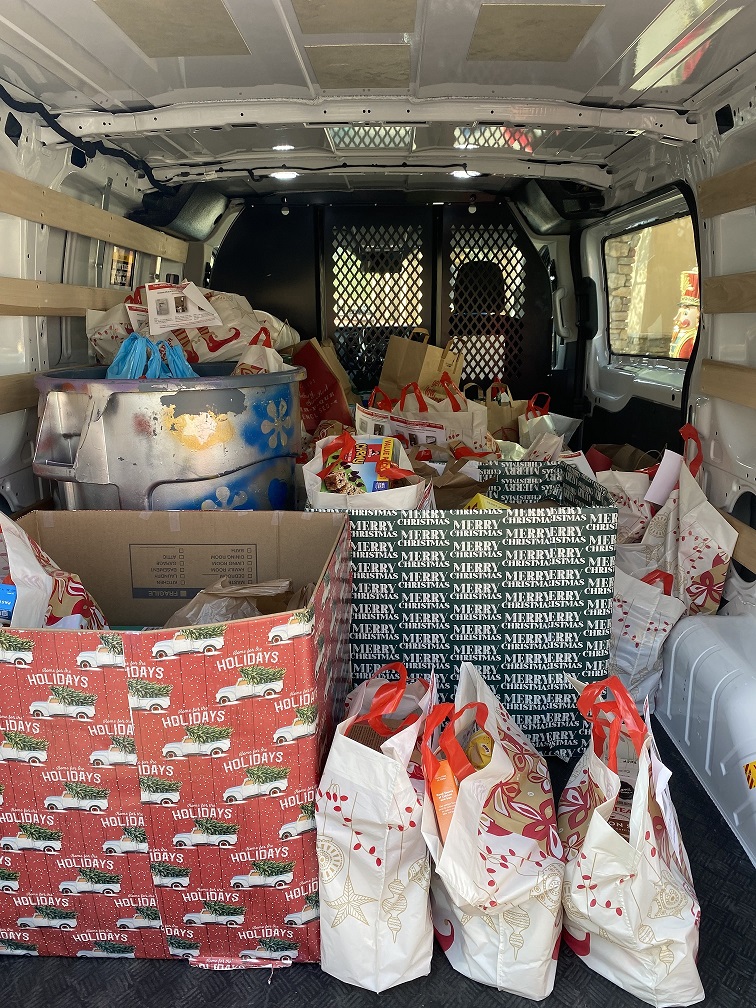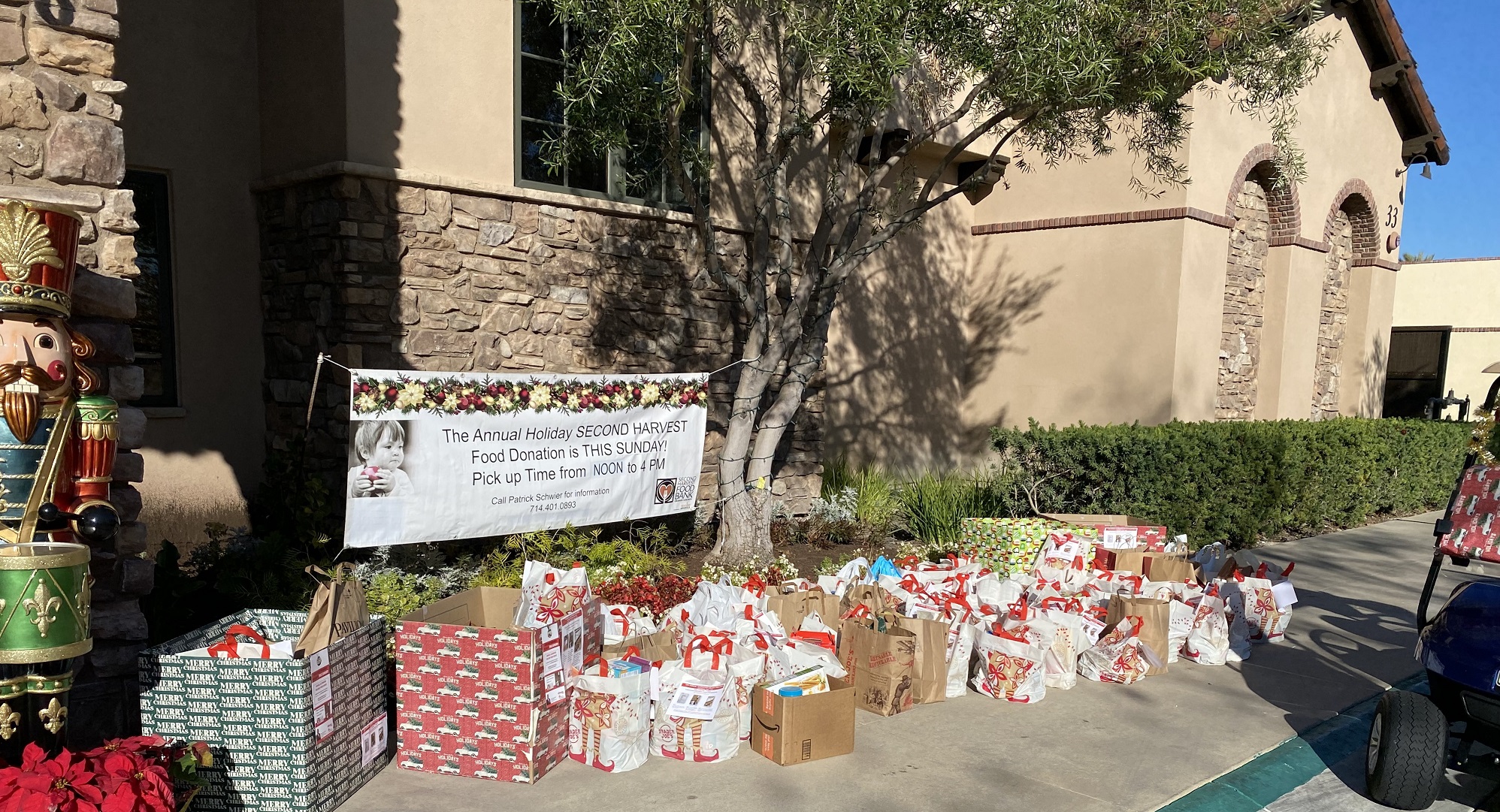 ---
2020 Holiday Food Drive Update
12/18/20 (2 Days before the 2020 Food Drive)
With the aid of our assistants we prepared all the donation bags for deliver the same day - Friday the 18th. Over 500 donation bags were dropped off at the Glenwood and Harbor Station communities which will be picked up on Sunday between Noon and 4 PM. We are also dropping off donatin bags to anyone who would like to donate. Just register at AlisoViejoHolidayFoodDrive.com with your name and address and we will drop off a donation bag and pick up on Sunday.
(If you have any problems registering please email: [email protected]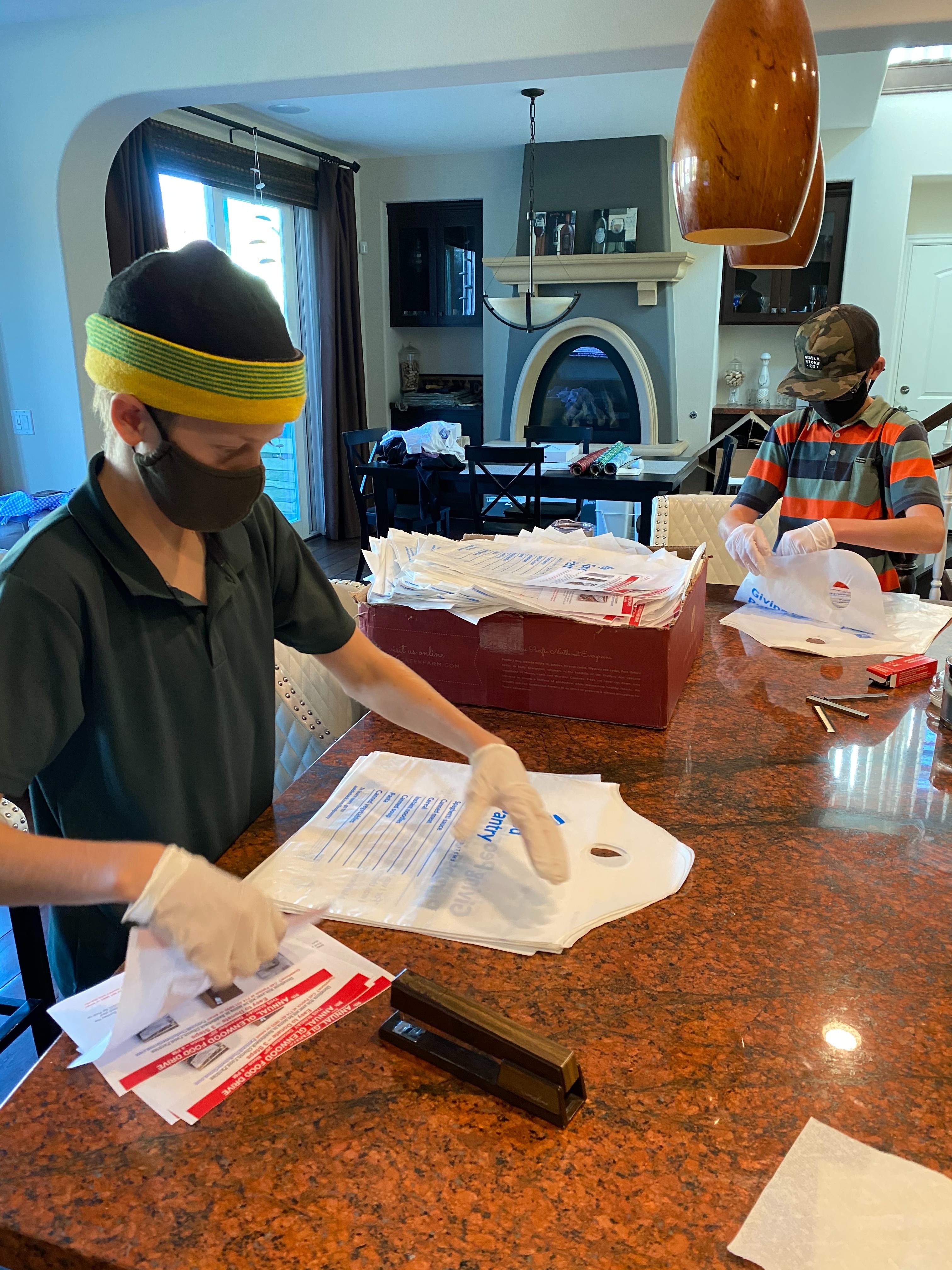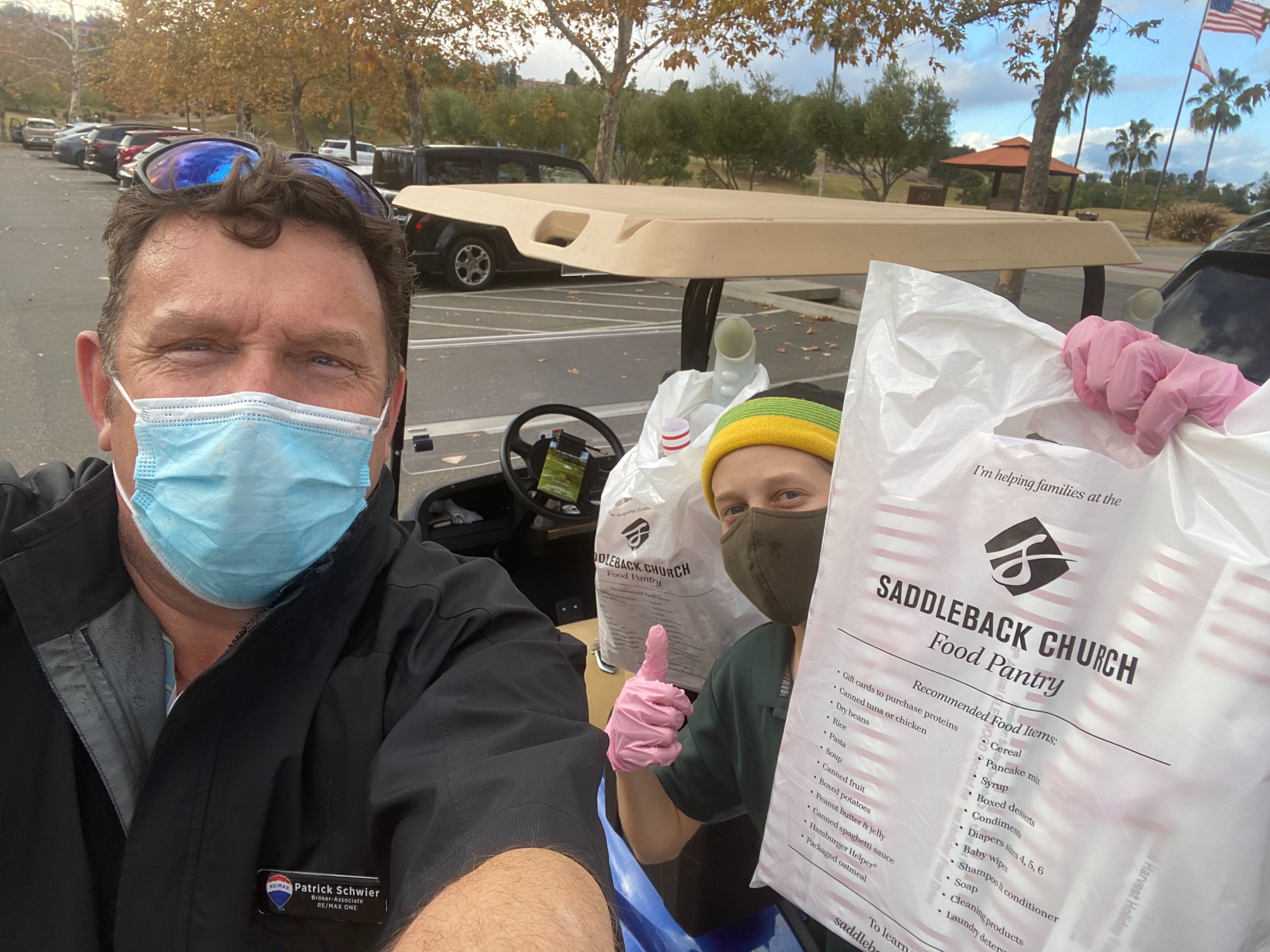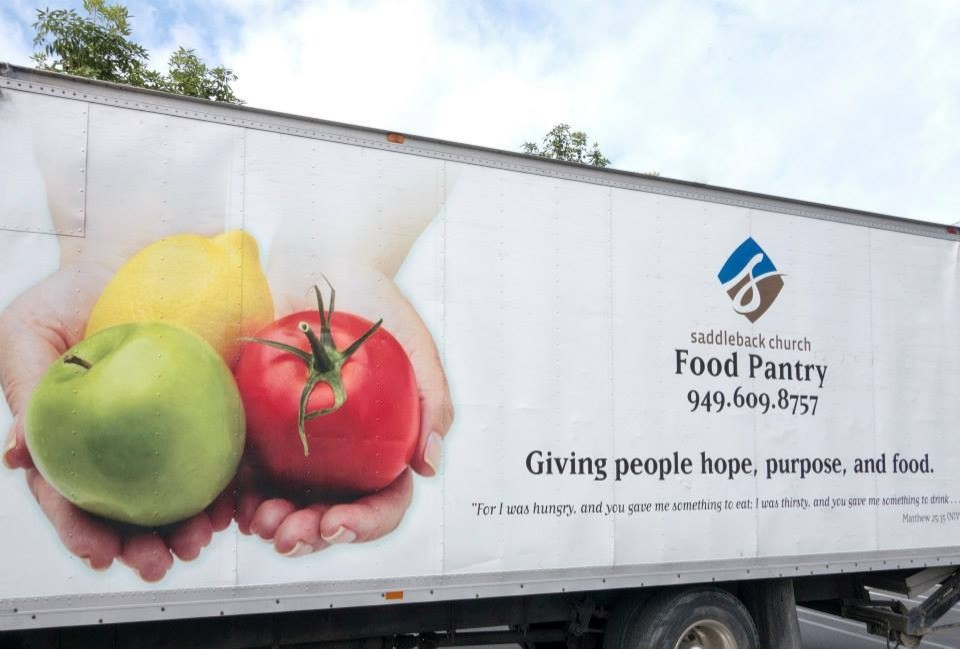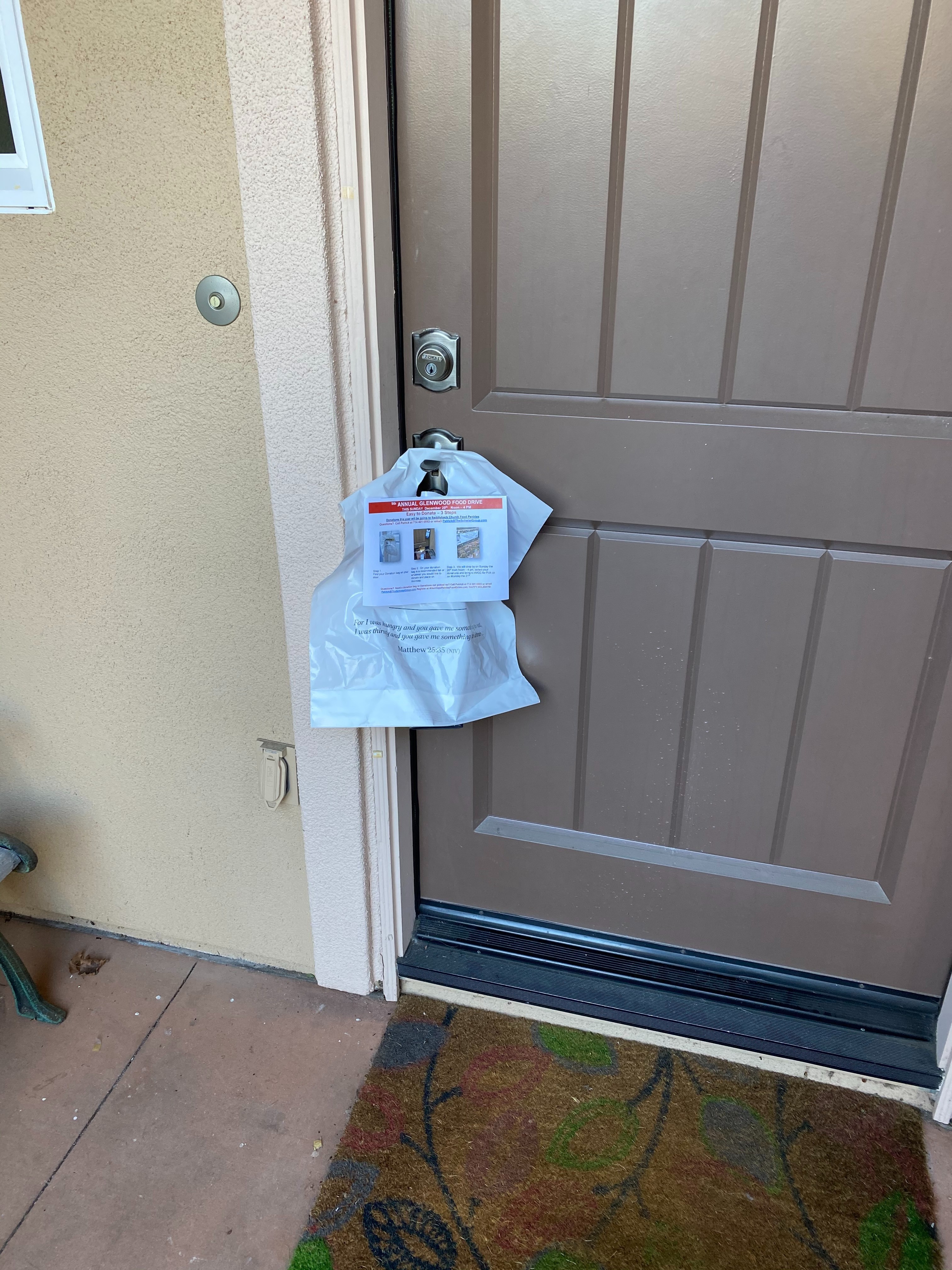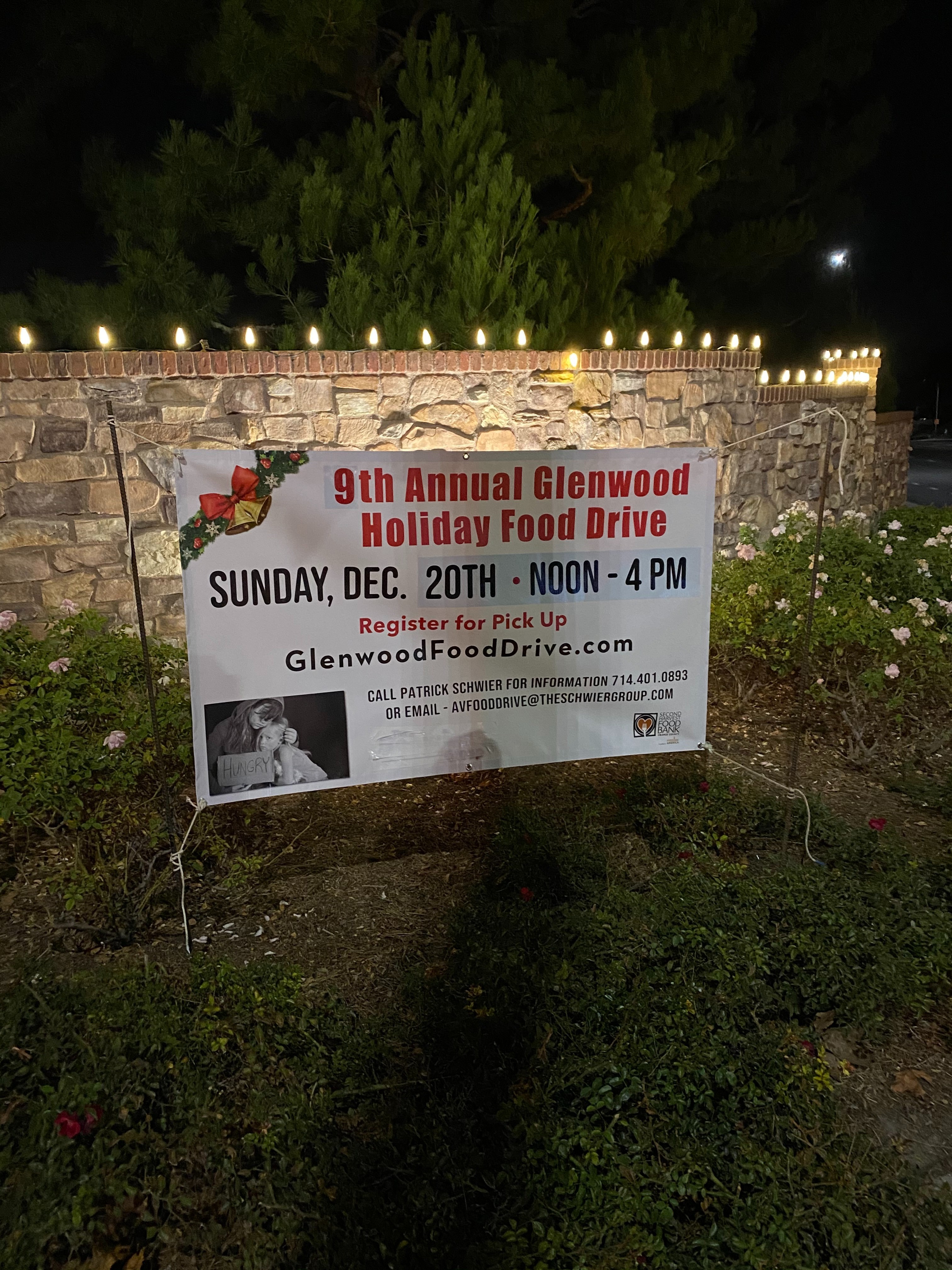 December 2020 Holiday Food Drive Result, Pics & Video
Thank you again for all who donated as 2020 was MASSIVE! Obviously everyone stepped up for Pandemic Year!
We collected over 3,500 lbs of food which was HUGE!
Thank you everyone & Happy Holidays!
---
Check out the pics and the video below for the 9th Annual Food Drive Results.
Thanks again to AVCC, the sponsors and my Elf / Assistant Bag deliverers and Collectors! See you all next year.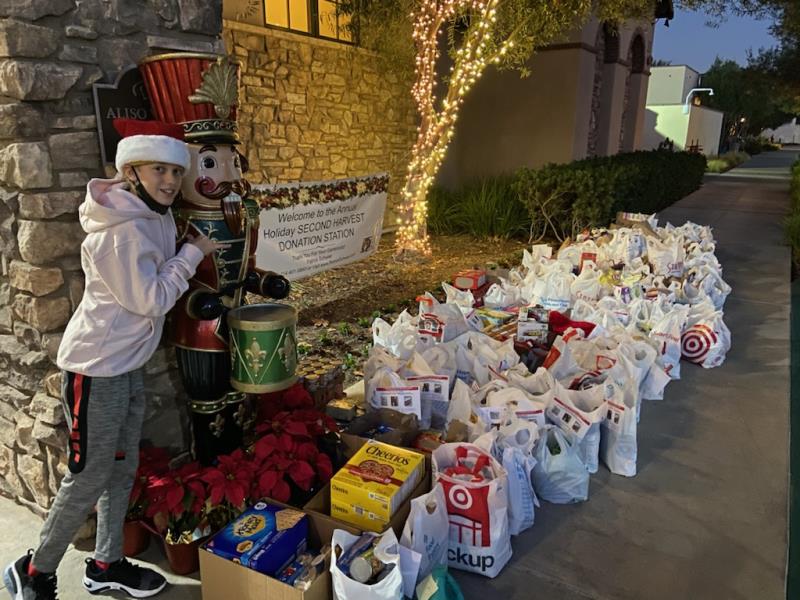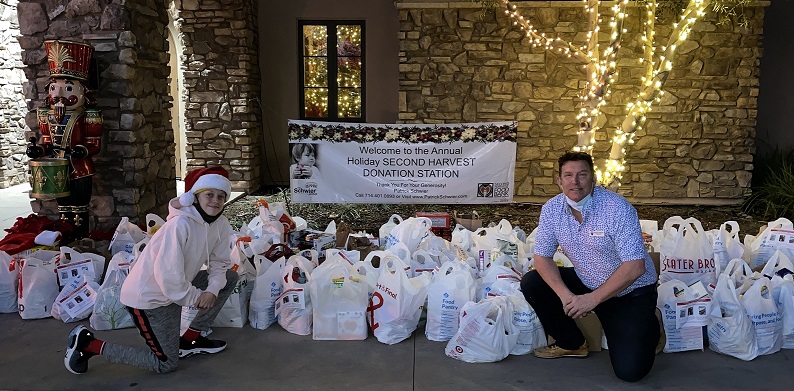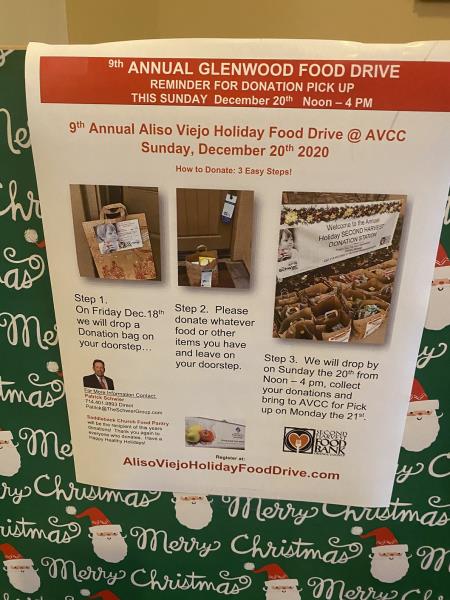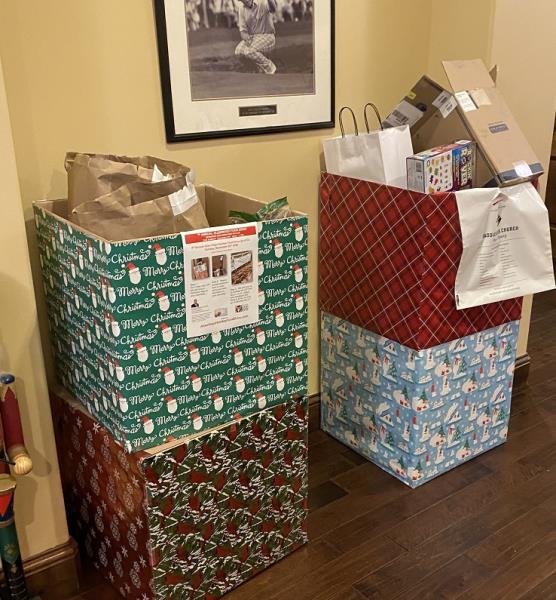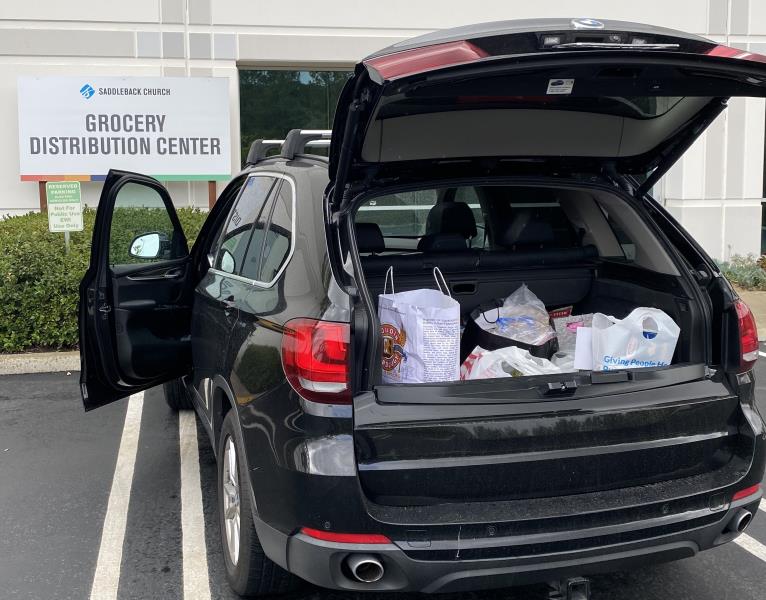 2020 Food Drive was a Huge Success. We at the Schwier Real Estate Group and everyone at the Aliso Viejo Country Club thank you for your donatioins and wish you a Very Happy and Healthy Holidays!
Patrick Schwier - Schwier Group Real Estate

Want to help next year? Give us a shout at 714 401 0893
---
December 2019 Holiday Food Drive:
1. Yesterday my Second Harvest Helpers and I dropped off over 502 donation bags in Glenwood. We have more bags to drop off tonight to all of the people who registered on our donation site who live outside of the Glenwood community and we really appreciate all of your support.
2. Here is a quick pic of our neighborhood helpers! Thanks guys for your help!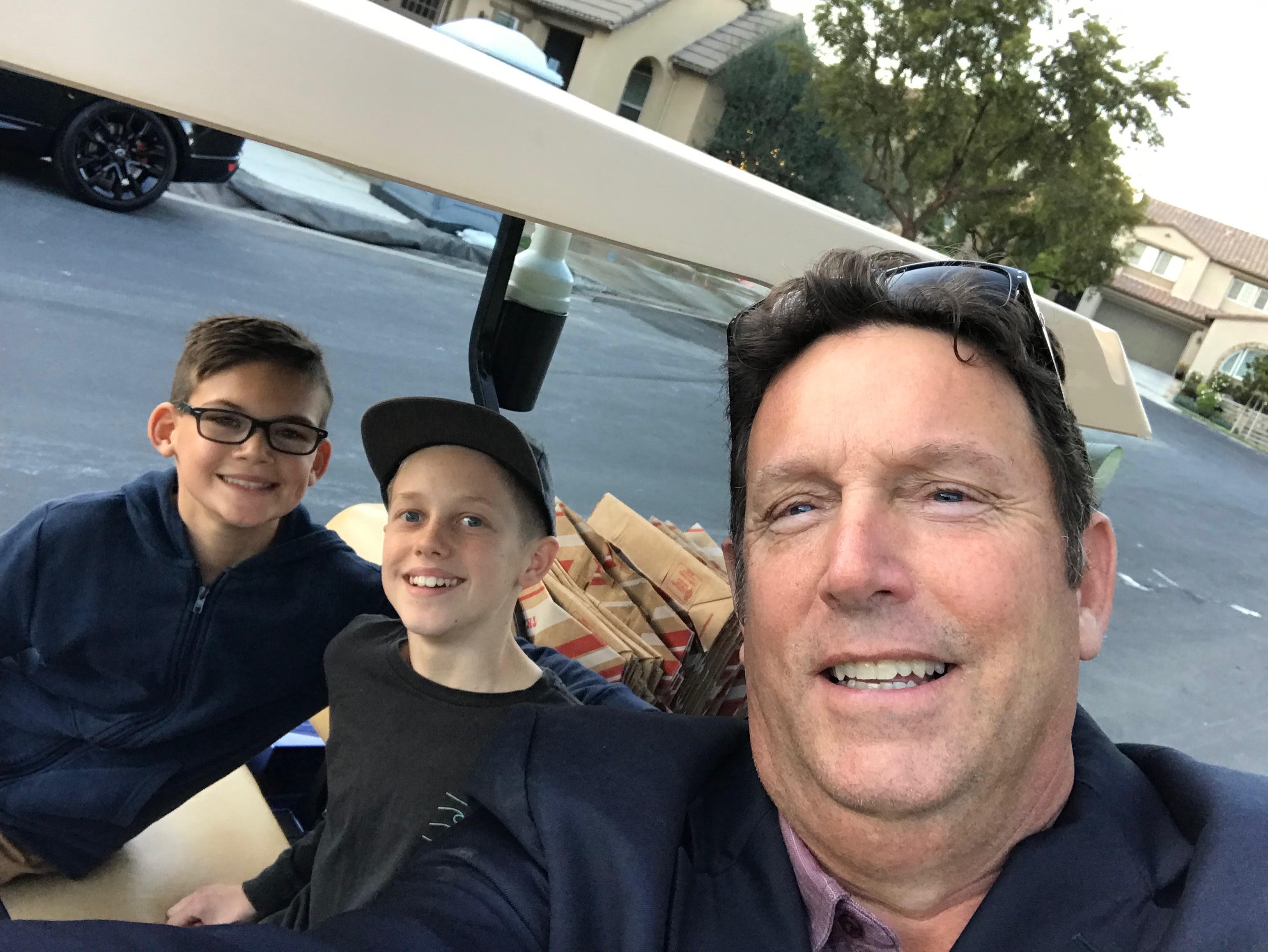 Also see the picture below & Thank you to the Trader Joes employee who assisted us in getting our Trader Joe Bags for donations. He preferred to stay anonymous but they definitely helped us with the cost of the 600 bags we picked up.
FYI we are all green by the way. We drop off door hangers, donation bags and on Sunday we pick it ALL up! Filled bags or empty - door hangers too!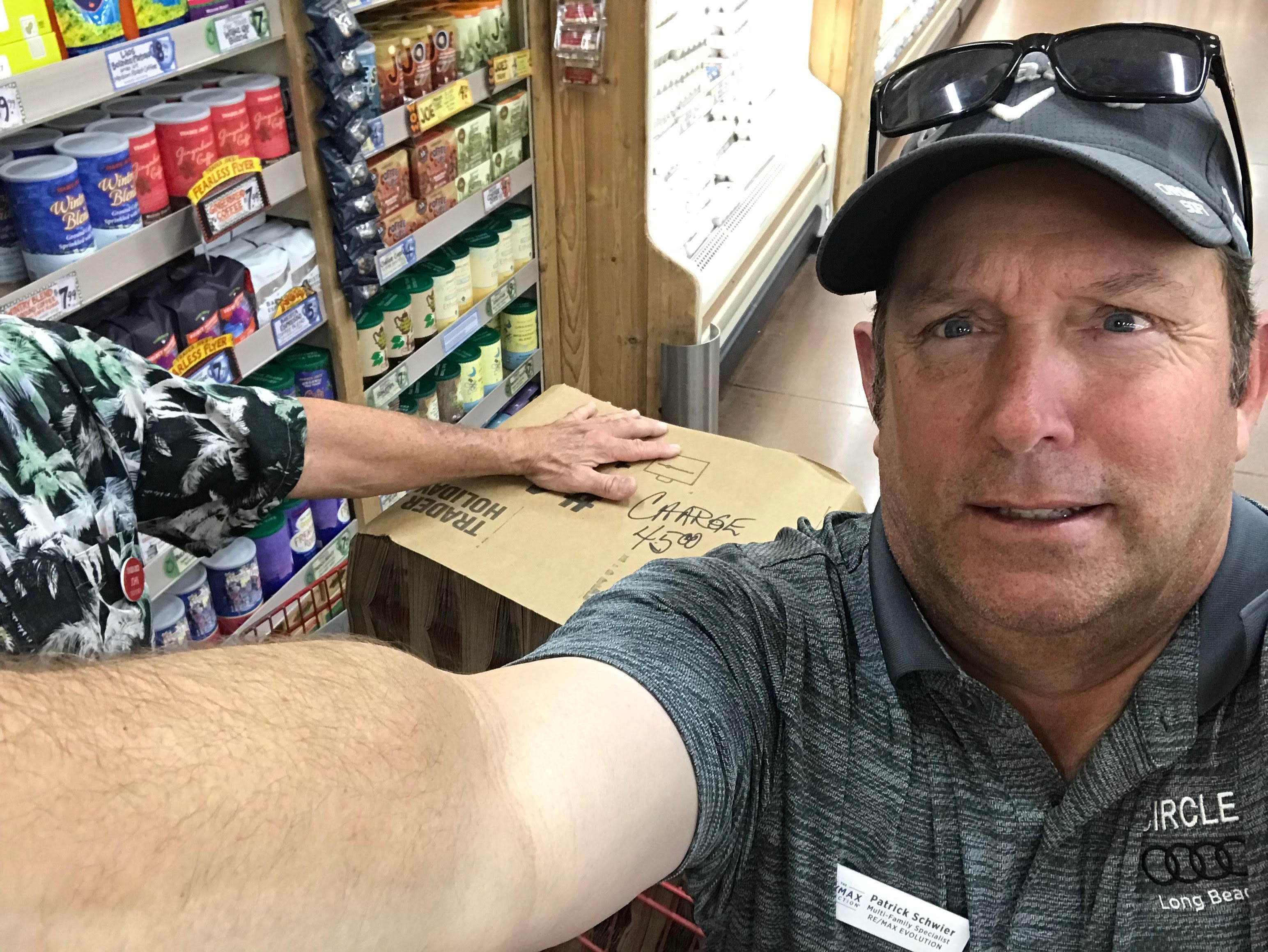 Happy Holidays! We all look forward to seeing you around Aliso Viejo or at the club! Please feel free to email or call us direct at 714.401.0893 - Ask for Patrick!
This Holiday Event is Sposored by:
Patrick Schwier Aliso Viejo Country Club Member
Aliso Viejo Country Club
Glenwood Neighbors