February 2022 Home Sale Trend Update
Posted by Patrick Schwier on Saturday, March 19, 2022 at 11:08 AM
By Patrick Schwier / March 19, 2022
Comment
February 2022 Home Sale Price Trend Update!
City Market Trends Below - Click on your city icon to download last months Sales Trends.
SELLERS MARKET CURRENTLY - Housing prices up and inventory Super Low. Expect 2022 to be more of the same until interest rates go above 5%.
Join our VIP List to receive info. on Off Market, Investment & Distressed properties! Click Here to join our VIP List for Real Estate Opportunities.
What is your home worth? Click Here for a Free Home Evaluation.
Click Here: How We Sell Home for Higher Prices
Click here to Find out Where is the housing Inventory Increasing?
---
Below, click on the city image below to review the
February 2022 Home Sale Trends
(March Report will ber published by April 20, 2022)
---
Market Snapshot = Orange County - Detached Single Family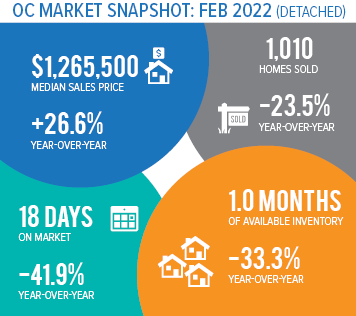 Attached - Condominium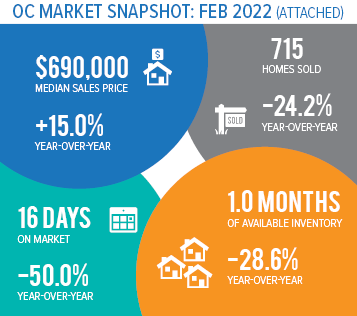 ---
Seller & Buyer Tip of the Day
1. Inspections - Know your property before you go to market.
Nothing kills an escrow faster then when a Buyer Inspection turns up a Major problem with your property such as a SLAB LEAK, MOLD or even a Massive TERMITE DAMAGE
Sellers - If you have ANY questions about your property I suggest you do the appropriate inspection before you go to market. Showing perspective buyers any significant repairs which may need to be addressed during escrow creates less stress for the buyer annd they will adjust their offer accordingly. Your escrow will run smoother becasue of your due diligence.
---

Why Choose Patrick to Sell or Buy YOUR Property?
Real Estate Licensed in 1990 and Broker License in 2004.
We utilize a Proven Improvement & Sales Implementation Strategy to maximize the Sale Price of your home and streamlining the escrow while achieving your Real Estate Goals.
Have sold both Single family and Investment properties from San Diego to Los Angeles
Have substantial databases for owners of residential and investment properties (Both buyer and seller opted-in lists) .
Property management experience since 2004.
Have worked through 2 Real Estate Cycles.
Constant education. Have taken multiple evaluation, marketing & negotiation seminars. Our evaluation and negotiation skills are Second to None!
Belong to multiple Real Estate Networking & continuing educational groups of over 5,000 competent and successful Real Estate Agents.
I have contracted out to Flip homes for profit. Have excellent vendors.
Find out more information about The Schwier Group. WhyChoosePatrick.com
See Daily Hot Picks of the best of the New Listings - PatsHotPicks.com